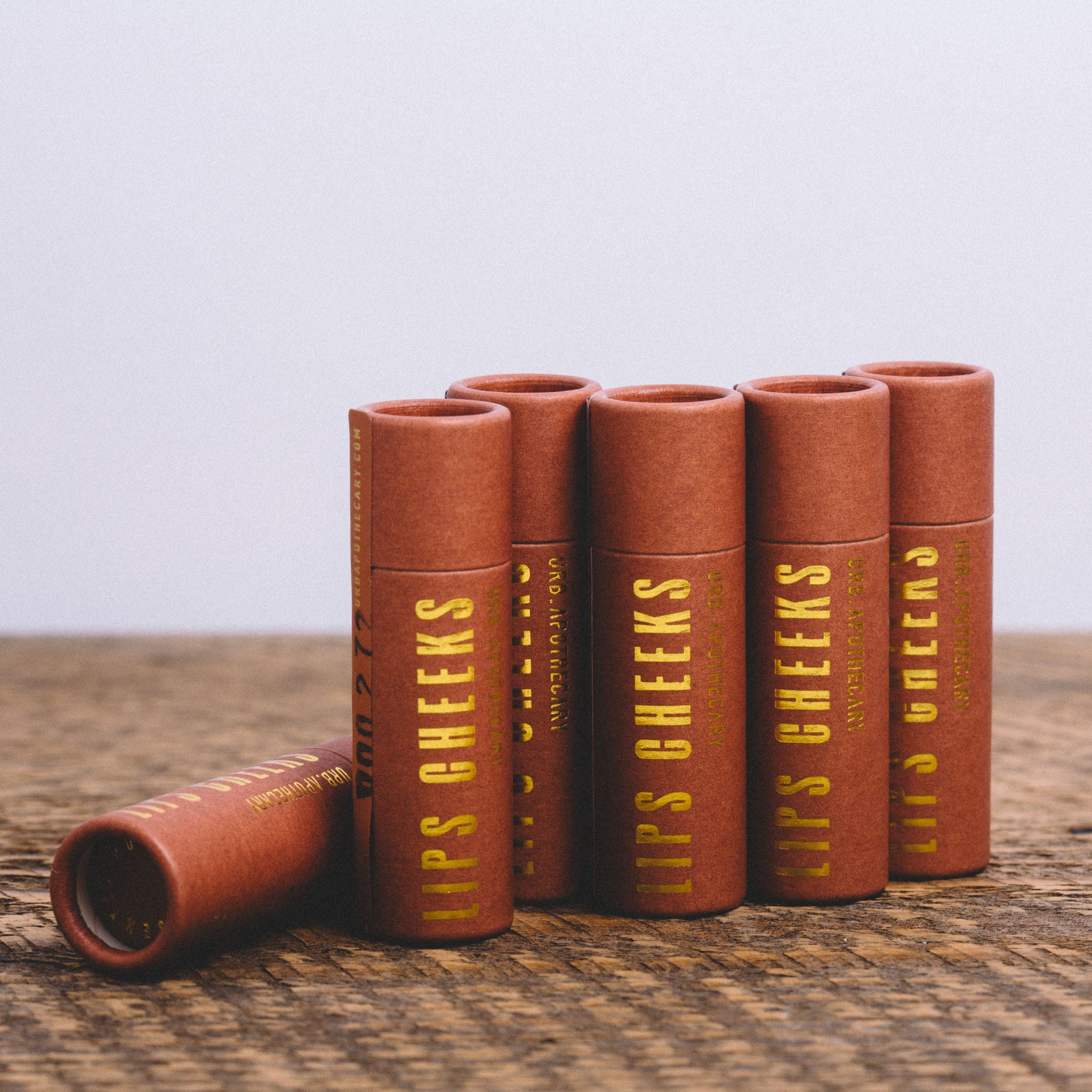 LIPS/CHEEKS TINT STICK || URB APOTHECARY
 Perfect way to achieve a fresh dewy look effortlessly. This tint is all-natural, mica and iron-oxide free. It's build-able color allows you create a light pink tint or richer red flush.
Ingredients // Sunflower* and camellia seed oil* infused with alkanet root*, rose petals*, and rosehips*; beeswax*, cocoa butter*, arrowroot powder*, kaolin clay, geranium*, palmarosa*, and ylang ylang* essential oil, vitamin e (non-gmo) and good energy
.3 oz eco-friendly, compostable, push-up cardboard tube
 ALL PRODUCTS ARE CRUELTY-FREE, SLS-FREE, PARABEN-FREE, AND FREE OF CHEMICAL ADDITIVES AND PRESERVATIVES. 
For educational purposes only This information has not been evaluated by the Food and Drug Administration. This information is not intended to diagnose, treat, cure, or prevent any disease.


|| ABOUT URB APOTHECARY ||

Growing up in rural Northern California, Leyna Allred was perpetually digging in the mud, climbing trees, and imagining living off the land. With this penchant for natural living as kindling, my interest in the medicinal qualities of plants was eventually ignited and I bought every herbal book I could find and was totally engrossed in the simple recipes for liver tonics, healing ointments, and cleansing teas. Through learning about the science of the human body (she holds a Bachelor's Degree in Foods and Nutrition) a deep passion developed. A passion for natural living, eating, and using herbs and whole foods instead pharmaceutical drugs to overcome most health issues.
URB APOTHECARY is Leynas  vision for skin care products that reflect the need and desire to reconnect with simple, chemical free ingredients. She uses only the highest quality organic ingredients in all of her products. Each one reflects her good intentions, love for design and art, and a deep rooted fascination with the healing power of herbs and plants.