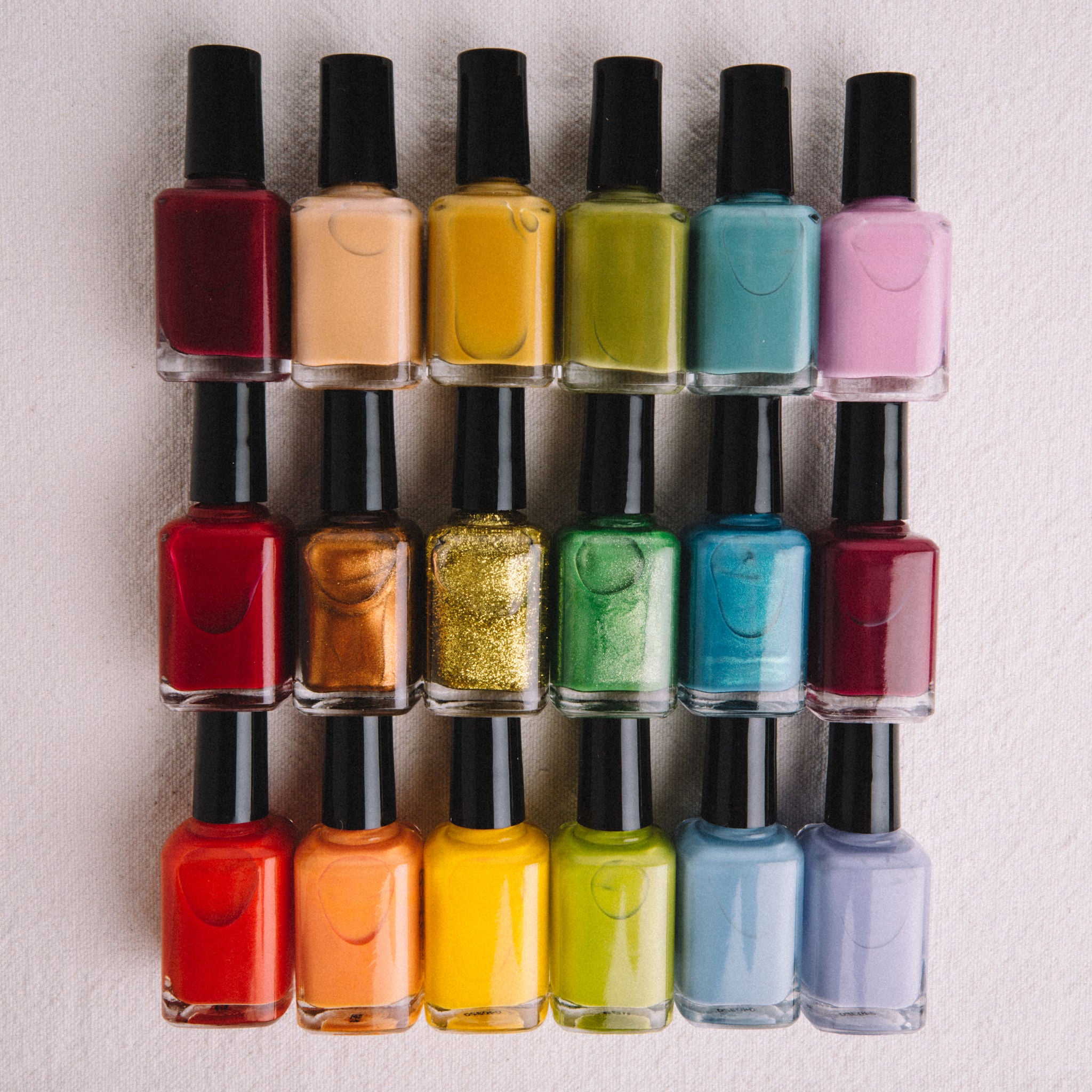 NAIL POLISH || PALATE
10 FREE NAIL POLISH


GUMBALL | chunky rainbow glitter
BUBBLE GUM | bright matte neon pink (finish with GLAZE TOPCOAT to make shiny) 
CHERRY BLOSSOM | blush pink
STRAWBERRY MILK | creamy pastel pink
ROSEWATER | shimmery sheer pink

ANIMAL COOKIE | 
holographic pink
RUBY CHOCOLATE | dusty mauve
PEACH | yummy pinky-orange 
RADICCHIO | deep reddish-purple
PLUM | luscious maroon
CHERRY PIE | deep red
MARASCHINO | deep red
HOT SAUCE | classic red
HIBISCUS | 
iridescent bright purply pink
CAYENNE | bright red with orange undertones
CHAMOY | saucy red with subtle gold shimmer
SAFFRON | 
bright red-orange
PAPRIKA | creamy terracotta red
CONFETTI CAKE | multi-size rainbow glitter suspended in pink-clear coat
CLEMENTINE | iridescent bright yellowy orange
HOT WING | 
neon orange

SWEET POTATO | rusty orange
PERSIMMON | burnt orange
YOLK | bright yellow
MANGO | iridescent bright yellow
BUTTER | pale yellow
GOLD GUMDROP | golden glitter 

PROSECCO | bubbly gold
TURMERIC | rusty yellow brown

COFFEE | warm brown  

DARK CHOCOLATE | deep brown

BROWN SUGAR | iridescent metallic copper shimmer

CANDIED GINGER | chunky brownish-gold glitter
CINNAMON | warm cinnamon
BBQ SAUCE | deep reddish-brown  
MISO | mellow brown 
CHAI LATTE | comforting tan/nude

CHAMPAGNE | silvery gold glitter
EARL GREY | creamy pink 
ROSEMARY | herbaceous rosemary green
CHIMICHURRI | olive drab green
ARTICHOKE | delicious creamy green

PICKLE | iridescent green shimmer
PISTACHIO | chartreuse green
KIWI | iridescent bright yellowy green
LIME | vibrant neon lime green

MARGARITA | glittery lime green
SWEET MINT | neon-y pastel green
ROBIN EGG | teal turquoise
NORI | dark forest green

SPIRULINA SMOOTHIE | dusty blue
BLUE RASPBERRY | brilliant blue/green raspberry
TAFFY | iridescent blue/green

BLUE MAIZE | dark navy blue
APHRODISIAC | striking cobalt blue
BLUEBERRY | blue-violet
CORNFLOWER | periwinkle blue
COTTON CANDY | dreamy baby blue
LAVENDER MACARON | pastel muted purple
GRAPE | bright purple 
CREME DE VIOLETTE | stunning dark purple glitter
EGGPLANT | aubergine purple
UBE | perfect purple
SUGAR PLUM |
purple shattered glitter in clear coat
SPRINKLES | silvery multi-color glitter
OYSTER | 
neutral grey
MACKEREL | metallic silver liquid metal

SQUID INK | charcoal grey
BLACK PEPPER | silvery grey black
BLACK OLIVE | pitch black
COOKIES & CREAM | chunky black & white glitter
JAWBREAKER | rainbows on white
BLACK COCONUT | stark true white
GLAZE TOPCOAT | clear
MERINGUE MATTE TOPCOAT | smooth mattifying topcoat


Palate soy polish remover also available.
Bottle size is 0.5 oz/15 ml with 2 stainless steel mixing balls
Our product is Vegan and cruelty-free


Made in Portland, OR



|| ABOUT PALATE POLISH ||

Palate Polish is small batch and 10-free, excluding many typical toxic ingredients found in nail polish.


What does 10-free mean?
10-free polish excludes the toxic chemicals: Toluene, Formaldehyde, Dibutyl Phthalate (DBP), Formaldehyde Resin, Camphor, Triphenyl Phosphate (TPHP), Xylene, Ethyl Tosylamide, Methylisothiazolinone (MIT) and Parabens.
...and what do those ingredients do?
Toluene affects the central nervous system and can cause headaches, nausea, dizziness and fatigue. Chronic exposure is linked to anemia, lowered blood cell count, liver or kidney damage. This is the solvent in nail polish that smell like paint thinner. 
Formaldehyde is a known human carcinogen that has been associated with leukemia and asthma. It can also irritate the eyes, nose and throat and leads to skin irritation or cause an allergic rash called dermatitis. It is routinely used to embalm and preserve dead animals and humans. 
Dibutyl Phthalate (DBP) is a developmental and reproductive toxin. Our product omits all Phthalates, a group of chemicals that have been linked to obesity, allergy and asthma symptoms, reduced fertility, preterm birth and low birthweight. Exposure can affect thyroid function and may cause malformations of an embryo. They are used as a plasticizer. 
Formaldehyde Resin is a derivative of Formaldehyde, it is not as toxic as Formaldehyde but can be an allergen. This ingredient is used in the manufacturing of adhesives.  
Camphor is a poison that can cause seizures and disorientation. This chemical acts as a cover on your nails, depriving them of nutrients and causing the yellow staining on your nails.
Triphenyl Phosphate (TPHP) disrupts hormone regulation, metabolism, and reproductive systems. It is chemical compound used as a fire retardant in furniture and hardener in plastics. 
Xylene irritates the skin, eyes and respiratory tract. It most commonly enters your body through the inhalation of vapors and is rapidly absorbed by your lungs. Symptoms include: headaches, dizziness, ataxia, drowsiness, tremors, ventricular arrhythmias, acute pulmonary edema, respiratory depression, nausea and vomiting. This solvent is used in synthetic enamels, paints, lacquers and varnishes. 
Ethyl Tosylamide is an antibiotic resistance. It is used in low concentrations, but is a highly viscous liquid used primarily as a drippy-to-dry film former.
Methylisothiazolinone (MIT) is associated with allergic reactions and irritation to the eyes, skin, and lungs. It is preservative added to cosmetics in order to extend their shelf life and not cause bacteria to form. 
Parabens are preservatives that have gotten a bad rep for their estrogen-mimicking effects, which may trigger major health concerns like hormonal problems.