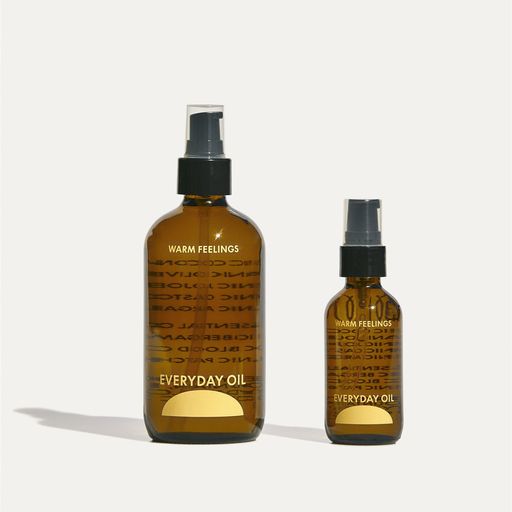 WARM FEELINGS EVERYDAY OIL
Organic Baseline oils with organic essential oils of Bergamot (FCF), Blood Orange and Patchouli. A blend that will steal your heart; an homage to resilience and self reliance, warm rocks, warm sun, friendship and ripe citrus. Warm Feelings is a lighter scent that will linger for just a little while.

Everyday
All Over
For Everything
For Everyone

All natural, unisex skincare for your whole body + whole family. A blend of organic cold-pressed plant oils and steam-distilled essential oils that are cleansing, hydrating + balancing. For use on the face, body + hair (everywhere). 


2oz or 4oz glass bottle 



|| EVERYDAY OIL || 

I started making Everyday Oil years ago for myself - simply because I couldn't find anything like it on the market.  All of the face and body oils I found didn't have the ingredients I wanted or smell like I wanted, and were often in tiny, expensive bottles.  It just didn't seem like it needed to be that way.  When you start really looking into skin care and ingredients, it becomes clear that there is a lot of misinformation, and the marketing and price point of products don't usually match up with the quality of the actual product.  I had some friends and family who were just slathering coconut oil all over themselves from big health food store jars, and I knew there had to be a middle ground there that hadn't been created yet.


Everyday Oil is 100% plant based - there is nothing synthetic or artificial, and what these oils do for your skin is endless.  T
he science behind each oil is amazing.  They do everything from boosting cell and collagen production to protecting the skin from UV damage, killing bacteria, easing inflammation…even helping resolve acne, preventing hyper-pigmentation and increasing circulation to the skin. The list goes on. They are balancing, healing, cleansing, rejuvenating, anti-aging - these are not empty claims
made on packaging, but information from science and medical journals about the incredible abilities of these plants.