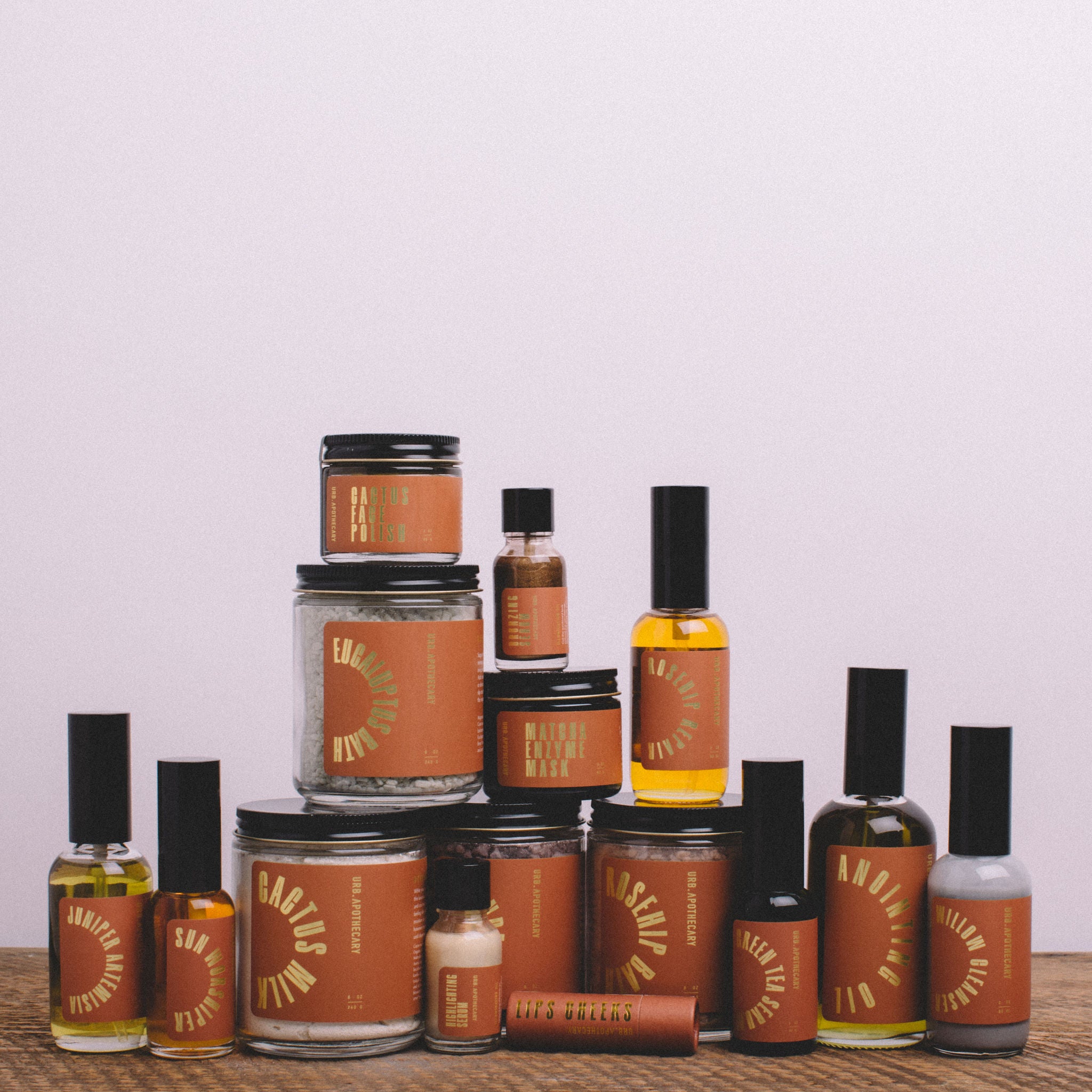 BATH SOAK || URB APOTHECARY
We thought a little color-therapy would be a perfect accompaniment to this muscle and nerve easing mineral bath soak. 

 || EUCALYPTUS BATH || 
Eucalyptus supports lung and sinus health, lemon soothes nerves, and aloe vera calms irritated skin, and this all together for a mineral-replenishing and nourishing green-hued bath soak.
EPSOM SALT | Rich in magnesium ions which pass through the skin and enter the blood stream. It can reduce itching, soothe skin irritation, heal sore muscles, and relieve stress.
FRENCH GREEN CLAY | Enormous absorbent powers due to the constitution of its micro molecules. It literally "drinks" oils, toxic substances, and impurities from your skin. Its toning action stimulates the skin. French Green clay is great for helping to clear occasional skin blemishes. Green clay owes its coloration to two very important factors: iron oxide and decomposed plant matter.
ALOE VERA | Antioxidants, enzymes, vitamins A and C, and it is highly anti-inflammatory. It can help treat burns, acne, and dry skin.
EUCALYPTUS | Purifying, cleansing, clarifying, and immune-boosting oil that is ideal for use on skin and in aromatherapy. Along with being antibacterial, antimicrobial and antiseptic, eucalyptus supports the respiratory system and soothes physical discomforts.
LEMON | Great for treating acne and oily skin due to its antibacterial and antimicrobial properties. It also is a skin lightening agent that helps remove dark spots, scars, and blemishes.
Magnesium sulfate (epsom salt), Sonoma Coast sea salt, French green clay, Aloe barbadensis* (aloe vera) leaf powder, Eucalyptus globulus* (eucalyptus) and Citrus limon* (lemon) essential oils, dendritic salt, and amor *organic ingredient

|| ROSEHIP BATH  ||
Warm your heart and soothe your nerves with this mineral-rich and intoxicatingly scented pink/orange-hued bath soak. 
HIMALAYAN PINK SALT | Full of minerals that are beneficial to the skin. Chromium helps fight acne and skin irritation. Zinc helps aid skin healing and can prevent scarring. Sulfur can help keep the skin clear and smooth.
FRENCH PINK CLAY | Known for its amazing benefits for sensitive skin. Referred to as the most gentle of all the clays, pink clay is actually suitable for all skin types because of its very light texture yet deeply restorative properties. Pink clay does not remove the skin's natural oils, making it perfect for tight, dry and dehydrated skin.
ROSEHIP | The fruit of the rose, is one of the most concentrated sources of vitamin C and lends its skin reviving antioxidants when used on the skin.
BERGAMOT | Its bright citrus aroma, has been shown to decrease stress and anxiety. It has pinene and limonene to calm irritated skin and reduce skin redness. It's got antibacterial and astringent properties, which means it can be used to unclog pores and balance sebum levels. It also works as an anti-inflammatory.

Himalayan pink salt, Epsom salt (magnesium sulfate), French pink clay, Rosa canina* (rosehip) powder, dendritic salt, Citrus aurantium var. bergamia* (bergamot) essential oil, and amor *organic ingredient
|| LAVENDER BATH ||
Colloidal oatmeal will soothe any irritation your skin may be experiencing while you relax in this lavender-hued detoxing and mineral-replenishing bath soak.
AUSTRALIAN SEA SALT | Natural minerals, including magnesium, potassium, calcium, and sodium chloride – all of which hold many benefits for skin. Calcium helps unblock pores. Potassium works to energize skin and help balance moisture levels. And magnesium helps soothe damaged skin.
BRAZILIAN PURPLE CLAY | Kaolin clay comes in a wide variety of vibrant hues. They're naturally colored and do not contain any dyes or pigments. The various shades are achieved by variations in the minerals found in the soil in the different regions of Brazil. Brazilian clays are suitable for a wide variety of skin types.
LAVENDER | Anti-inflammatory, anti-bacterial, and soothing to the skin and senses. What more could you ask for?
COLLOIDAL OATS | Soothe skin irritation and encourage moisture retention in the skin.
DENDRITIC SALT | A very fine grain salt with a greater surface area than most salts. This greater surface area allows the salt to absorb twice the amount of oil. It has less clumping, greater fragrance retention and dissolves quickly in water.
Australian Sea Salt, Brazilian purple clay, Lavandula angustifolia* (lavender) essential oil, Avena sativa (colloidal oatmeal), dendritic salt, and amor *organic ingredient


Add your desired amount directly to warm running water and slip into the tub immediately to enjoy the invigorating experience.

8oz glass jar

ALL PRODUCTS ARE CRUELTY-FREE, SLS-FREE, PARABEN-FREE, AND FREE OF CHEMICAL ADDITIVES AND PRESERVATIVES.
*These statements have not been evaluated by the FDA. This product does not intend to treat, diagnose, cure, or prevent any disease. If you're pregnant, breastfeeding, or on any medications, please consult with a qualified health professional before beginning any new herbal products.


|| ABOUT URB APOTHECARY ||

Growing up in rural Northern California, Leyna Allred was perpetually digging in the mud, climbing trees, and imagining living off the land. With this penchant for natural living as kindling, my interest in the medicinal qualities of plants was eventually ignited and I bought every herbal book I could find and was totally engrossed in the simple recipes for liver tonics, healing ointments, and cleansing teas. Through learning about the science of the human body (she holds a Bachelor's Degree in Foods and Nutrition) a deep passion developed. A passion for natural living, eating, and using herbs and whole foods instead pharmaceutical drugs to overcome most health issues.

Urb Apothecary is Leynas vision for skin care products that reflect the need and desire to reconnect with simple, chemical free ingredients. She uses only the highest quality organic ingredients in all of her products. Each one reflects her good intentions, love for design and art, and a deep rooted fascination with the healing power of herbs and plants.