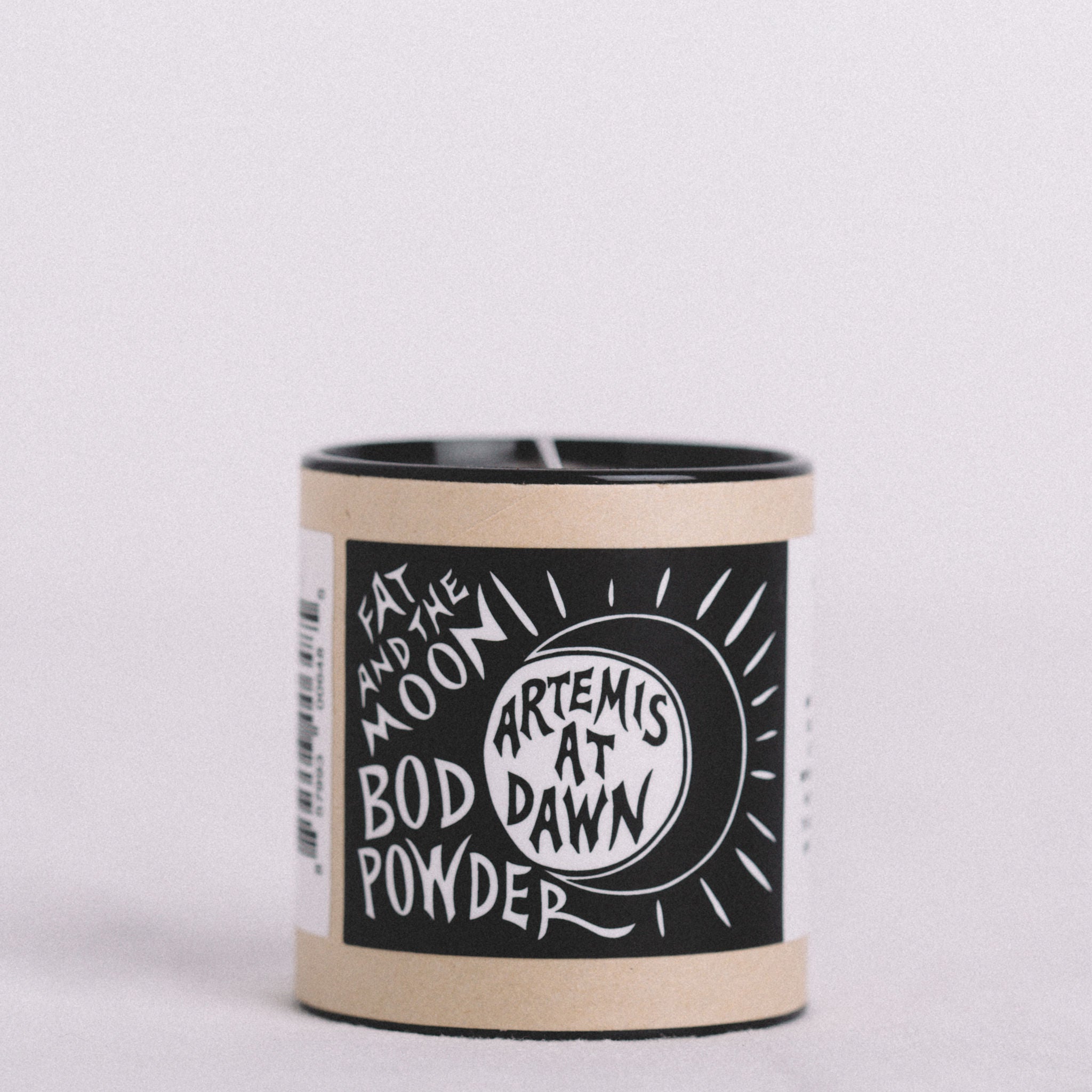 BOD POWDER || FAT AND THE MOON
Want to reduce the friction in your life? Sometimes staying cool and collected means you need to be dry and dusted. Might sound a little old fashion, but a good 'ole scented powder is just what the epidermis ordered. Fresh out the bath, bod powder absorbs sweat and makes the environment inhospitable to those little bacterial friends who make us stinky. A little Artemis at Dawn Bod Powder in all the right places keeps the skin moving smoothly with a silky feel. Don't let chafe trouble that saunter! The light, plant based rosy and spicy Patchouli scent adds a major yum factor. Talc free y'all.

To use, pour out a smidge of the Bod Powder in your hands and apply to the regions prone to sweatin' and stickin'. Use a bod dusting brush if you're hella Victorian style classy like that. Safe to use in all nether zones. External use only, you adventurous ones.

| ARTEMIS AT DAWN |  arrowroot starch*, kaolin clay, essential oils of patchouli*, black pepper* and rose geranium*
*organic
2 fl oz
 | DAY MOON | arrowroot starch*, kaolin clay, essential oils of clary sage* and grapefruit*
*organic

2 fl oz 


 || ABOUT FAT & THE MOON ||
Continuing a family legacy of herbalists and natural healers, Fat and the Moon founder Rachel Budde has built her company around providing handcrafted, herbal body care products to those seeking a natural alternative to chemical-filled products. Like a witch over a cauldron, Budde experiments with age-old ingredients and recipes passed down from various healing traditions to craft innovative and simple products that are good for the body and the earth. Fat and the Moon started as an alternative to the toxic, mass production body care industry aiming to provide nourishing ingredients and nourishing messages of self love, and self care. 
And if you were wondering why 'Fat and the Moon'....
Fat as the first word in the name of my business has gotten me in some interesting discussions. People ask me about the name all the time because they can hardly believe I would use a word that has such negative connotations,­ especially when it is used within 'beauty care'.
In part, I use the word 'fat' to be provocative; I don't believe fat is a dirty word. But most of the fat in Fat and the Moon comes from my love of the material- oil is the medium of external herbal medicine. Fat in the form of oil, is the gift of the seed. Fat, both in plants and animals, is where energy is stored. The richness we taste in food, and the suppleness we feel on our skin after a good slather of bath oil, is our bodies recognition of and pleasure in that vital energy. Oil from plants, in and of itself, is medicinal. I feel honored as a medicine maker to indulge in the play of fat and herbs, especially under the influence of the moon.