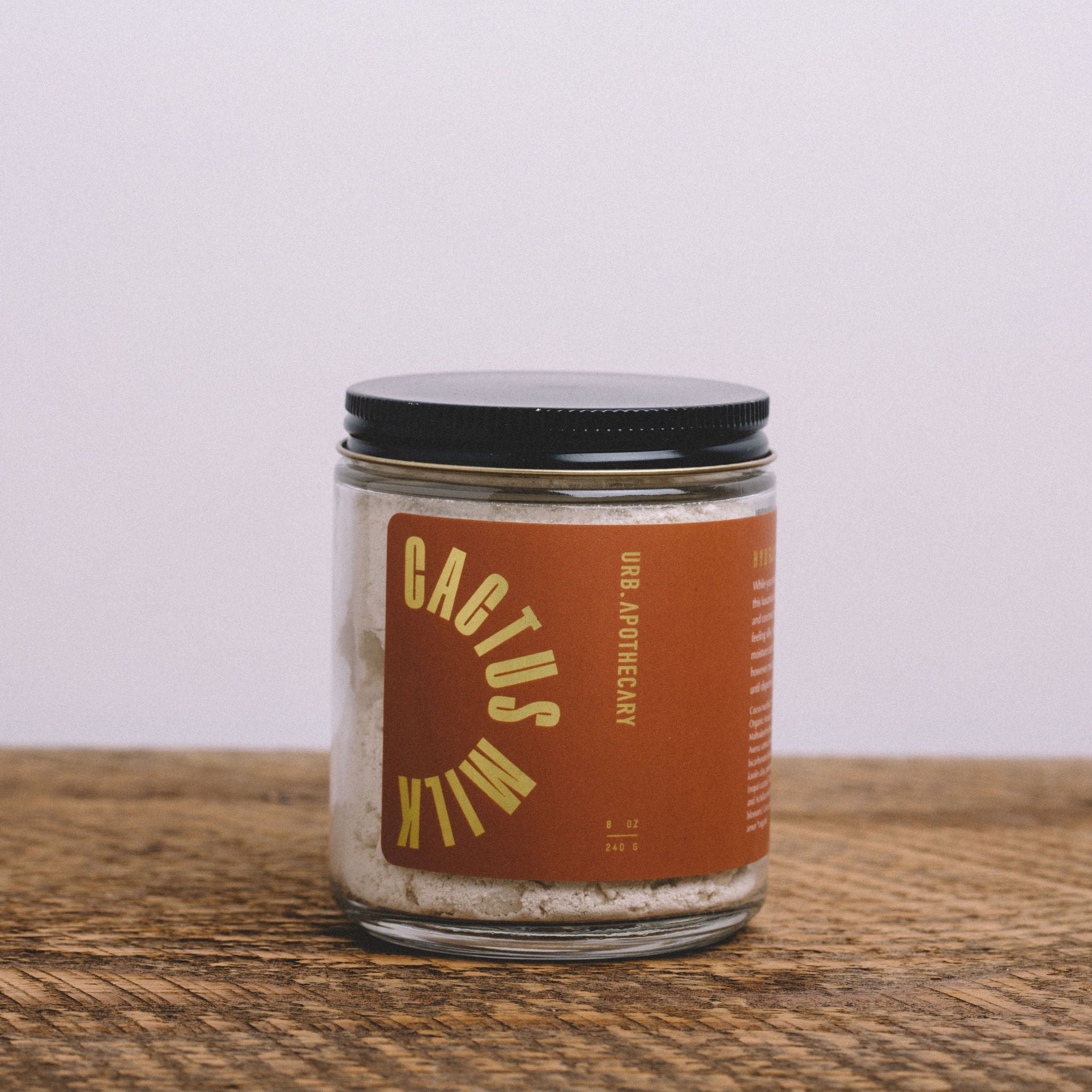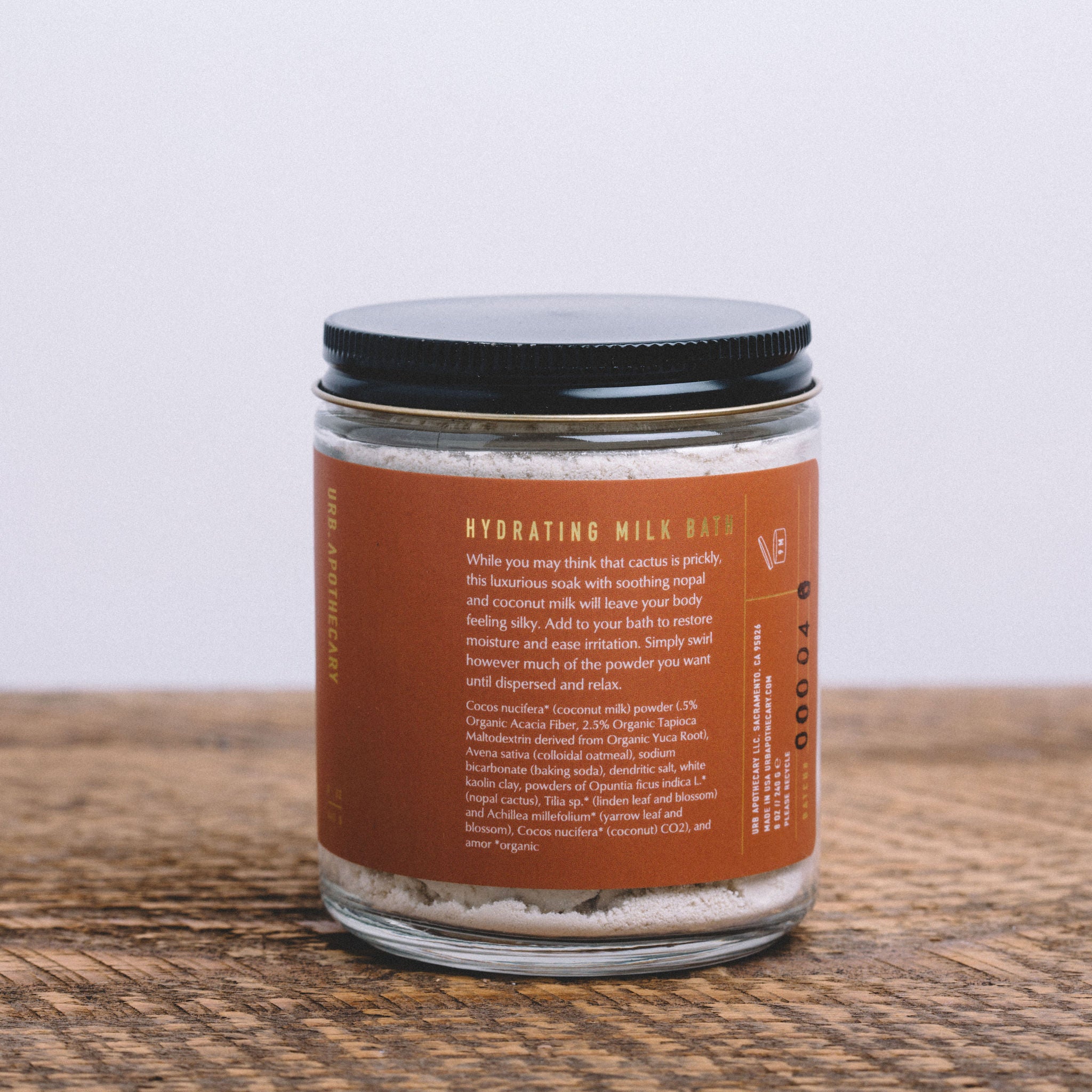 CACTUS MILK BATH || URB APOTHECARY
Coconut milk baths are more than just luxurious soaks, they soothe irritated skin, restore moisture, and leave your body feeling silky. We took the liberty of adding vitamin and mineral rich nopal cactus and healing linden and yarrow powders, making this milk soak a pure delight for your body, mind, and spirit.


How to Use: Simply swirl however much of the powder you want until dispersed and relax. To extend the life of this soak, keep water out.


COLLOIDAL OATS | Soothe skin irritation and encourage moisture retention in the skin.
KAOLIN CLAY | The mildest clays but it still stimulates blood flow to your skin which encourages healthy skin cell turnover and promotes a brightened even skin tone.
NOPAL (CACTUS) | Powder has been used by many cultures as a dressing for burns, cuts, and wounds to promote healing. It is rich in vitamins A, C, and K, magnesium, potassium, and manganese.
LINDEN | Benefits of Tilia come from the high concentration of phytonutrients, flavonoids, and other diaphoretic substances. Linden flower extract can provide powerful antioxidant protection, lock moisture into the skin, act as a natural astringent, and soothe irritated skin.
YARROW | Used for centuries for healing wounds. Its chemical constituents are flavonoids and salicylic acid. It works as a tonic and stimulant that has the power to soften and soothe the skin. It is a natural astringent that shrinks the skin and promotes skin healing.
Ingredients
: Cocos nucifera* (coconut milk) powder (.5% Organic Acacia Fiber, 2.5% Organic Tapioca Maltodextrin derived from Organic Yuca Root), Avena sativa (colloidal oatmeal), sodium bicarbonate (baking soda), dendritic salt, white kaolin clay, powders of Opuntia ficus indica L.* (nopal cactus), Tilia sp.* (linden leaf and blossom) and Achillea millefolium* (yarrow leaf and blossom) good energy *organic
8 oz glass jar
For educational purposes only This information has not been evaluated by the Food and Drug Administration. 

||
ABOUT URB APOTHECARY
 ||

Growing up in rural Northern California, Leyna Allred was perpetually digging in the mud, climbing trees, and imagining living off the land. With this penchant for natural living as kindling, my interest in the medicinal qualities of plants was eventually ignited and I bought every herbal book I could find and was totally engrossed in the simple recipes for liver tonics, healing ointments, and cleansing teas. Through learning about the science of the human body (she holds a Bachelor's Degree in Foods and Nutrition) a deep passion developed. A passion for natural living, eating, and using herbs and whole foods instead pharmaceutical drugs to overcome most health issues.
Urb Apothecary is Leynas vision for skin care products that reflect the need and desire to reconnect with simple, chemical free ingredients. She uses only the highest quality organic ingredients in all of her products. Each one reflects her good intentions, love for design and art, and a deep rooted fascination with the healing power of herbs and plants.