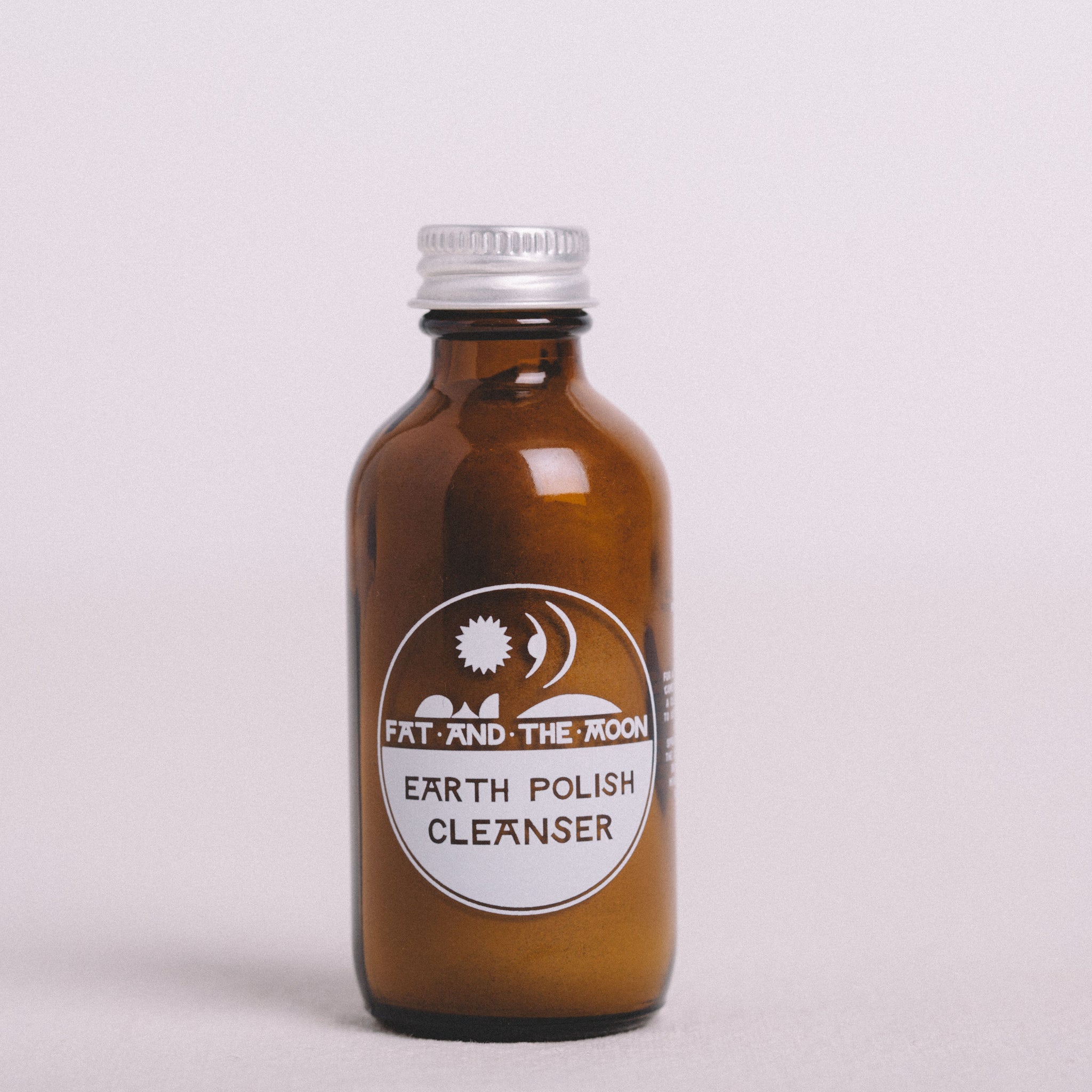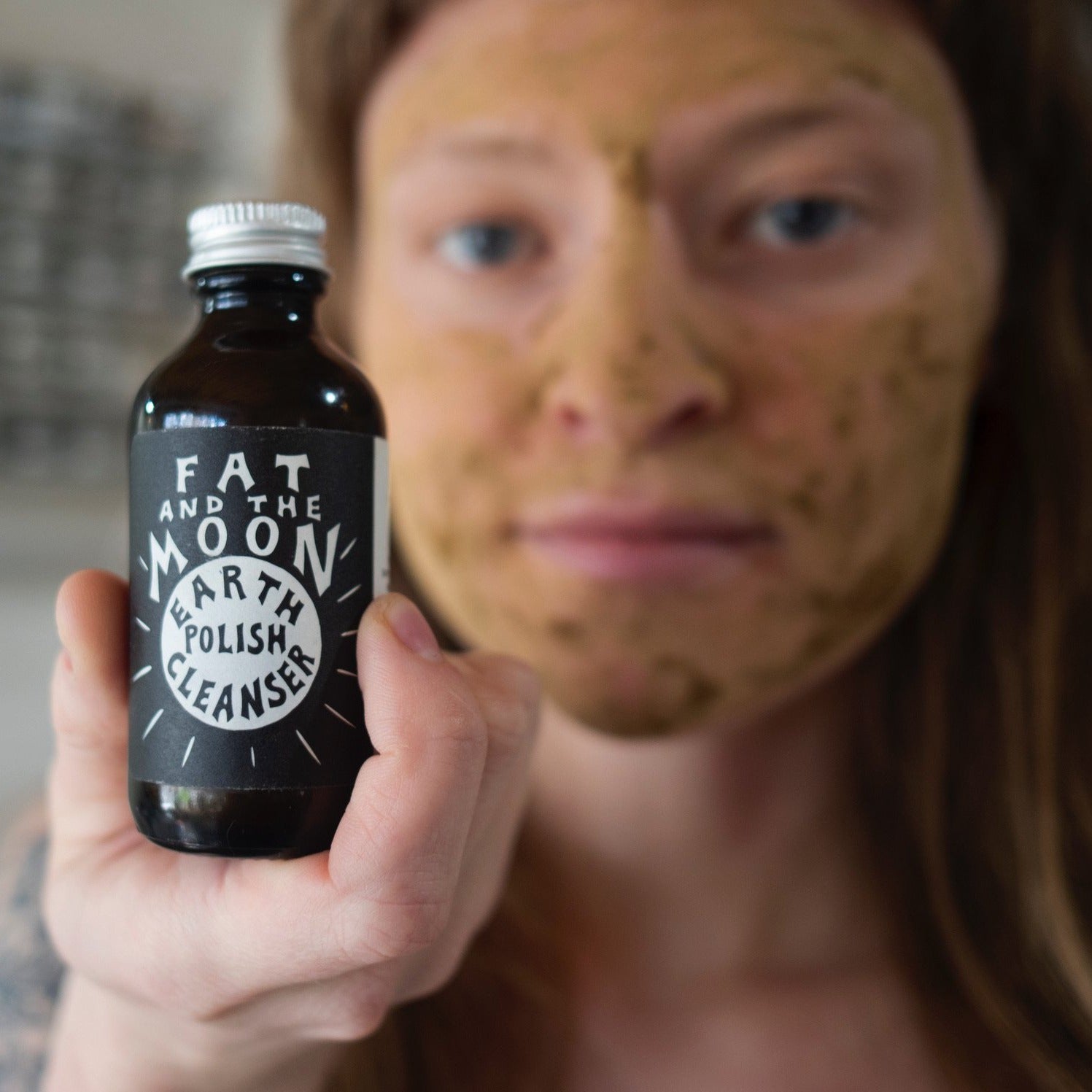 EARTH POLISH CLEANSER || FAT AND THE MOON
We all know about macronutrients- those big chunks of energy delivery like proteins, carbohydrates, fats and sugars- they are the subjects of much continuous controversy about how much of each we need to chow down on for optimal health. Micronutrients are rarely discussed with the same gravity. Yet micronutrients make it possible for the matter of our bods to move, to think, to detoxify, to be nimble and flexible and sane. Often, micronutrients are delivered in a compact and potent way by, you guessed it: plants. Medicinal plants with their concentrations of alkaloids, essential oils, flavonoids, terpenes, etc., supercharge the innate, functional processes of our human bods. In short, a diet high in micronutrients help us be the best versions of ourselves. 


Don't forget that nutrients (and toxins for that matter) ain't just in what you eat. We are porous, creatures- sponge like really. Your skin absorbs more than you'd think. With that in mind, you can feed your epidermal layer like you'd feed your favorite pet guinea pig. We get you, and your deep love for your guinea pig. That's why we made our latest cleanser, Earth Polish. Packed with micronutrients, you can literally feed your face with herbal medicine. Rhassoul clay draws out the impurities that are a part of the daily grind, while herbs like rosehip seed work to modulate the effects of oxidative stress/how the world makes you shrivel. Goldenseal root has a long history of going toe to toe with all matter of microbes and reigning supreme. 


For a finer polish that soothes and sloughs, Earth Polish is a micro exfoliant that you can use on the daily. Excellent for those prone to the pimples, but also rocking the sensitive skin. 


Earth Polish combines the primal powers of earth and herbs to deliver a cleanser that gets at the bottom of built-up grime.


Take it to the next level and mix with Moon Milk to make cleansing paste: your skin will flip out with joy, so make sure you're far away from sharp edges or flights of stairs. 

To use: Tap out a nickel size amount in your palm and mix with water until the consistency is smooth and spreadable. Massage gently into your face focusing on the zones around your nostrils, the chin and between the brows where skin gets stagnant. Leave on for 2-20 minutes, then rinse.
Follow with a Fat and the Moon moisturizer to keep that cleansing conscious.
Caution: Keep your Earth Polish dry
For best results, use within 1-year of purchase
2 fl oz

Ingredients: Rhassoul clay, Marshmallow root (Althaea spp.)*, Rosehip seed (Rosa spp)*, Goldenseal root (Hydrastis canadensis)*, Silica *Organic



ABOUT FAT & THE MOON


Continuing a family legacy of herbalists and natural healers, Fat and the Moon founder
Rachel Budde
has built her company around providing handcrafted, herbal body care products to those seeking a natural alternative to chemical-filled products. Like a witch over a cauldron, Budde experiments with age-old ingredients and recipes passed down from various healing traditions to craft innovative and simple products that are good for the body and the earth. Fat and the Moon started as an alternative to the toxic, mass production body care industry aiming to provide nourishing ingredients and nourishing messages of self love, and self care. 
And if you were wondering why 'Fat and the Moon'....
Fat as the first word in the name of my business has gotten me in some interesting discussions. People ask me about the name all the time because they can hardly believe I would use a word that has such negative connotations,­ especially when it is used within 'beauty care'.


In part, I use the word 'fat' to be provocative; I don't believe fat is a dirty word. But most of the fat in Fat and the Moon comes from my love of the material- oil is the medium of external herbal medicine. Fat in the form of oil, is the gift of the seed. Fat, both in plants and animals, is where energy is stored. The richness we taste in food, and the suppleness we feel on our skin after a good slather of bath oil, is our bodies recognition of and pleasure in that vital energy. Oil from plants, in and of itself, is medicinal. I feel honored as a medicine maker to indulge in the play of fat and herbs, especially under the influence of the moon.