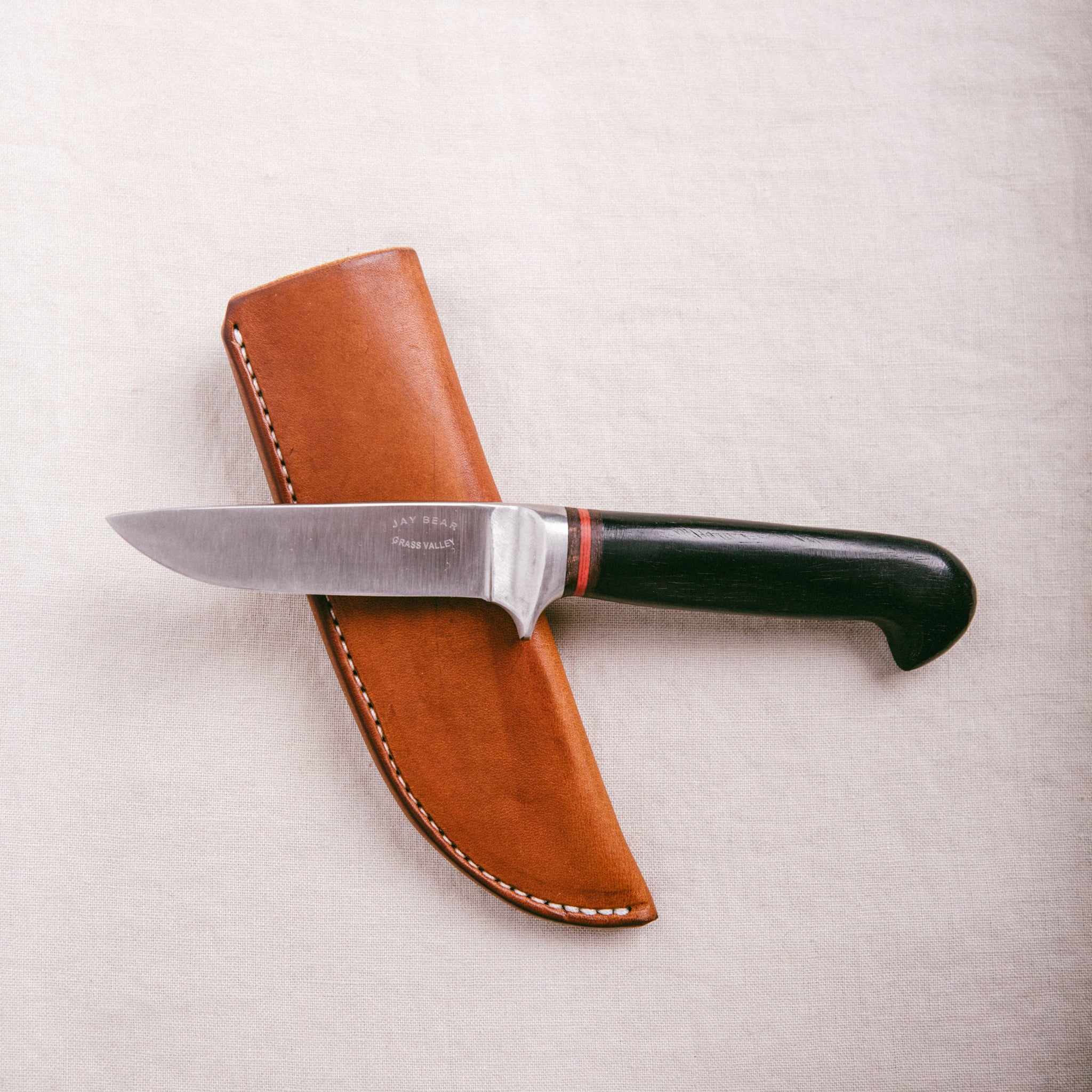 EBONY EVERYDAY CARRY || #4 || JAY GORDIN
|
HANDLE
| Ebony 
with stacked leather and red carbon fiber
|
BLADE
|
Dendritic Cobalt 
(rust resistant  alloy). Boye Dendritic Cobalt is not steel, but a metallic alloy composed of over 50% cobalt, 27% chrome and nickel, tungsten, silicon, molybdenum, iron and carbon. It is investment cast to shape and has carbide crystal dendritic formations throughout the blade. These dendritic formations aid in cutting (bite) and help maintain the structural geometry of the cutting edge. BDC cuts more aggressively and longer than any other blade material that we know of. It is impervious to salt water corrosion, and under natural conditions it is non-magnetizable.
|
SHEATH
|
S
elect Oak Tanned Cowhide
|
MEASUREMENTS
|
Full: 9", Blade: 3.75", Sheath: 7.25"
|| ABOUT JAY GORDIN ||


My goal as a knifemaker is to create a cutting tool that is as artful as it is functional. The knife has to feel good in your hand and please the owner in shape, form, fit and finish. I take pride in the sole authorship of my blades. Hand forging, heat treating, tempering, fit and finish of handle & guard and making my own leather sheaths.
I forge my blades out of high carbon steel. The handle material I use varies from micarta (used on WWII electronics boards) to elk, deer and moose horn, fossil ivory, leather, exotic woods, brass, copper, silver. 


Jay Gordin lives in Grass Valley, California.