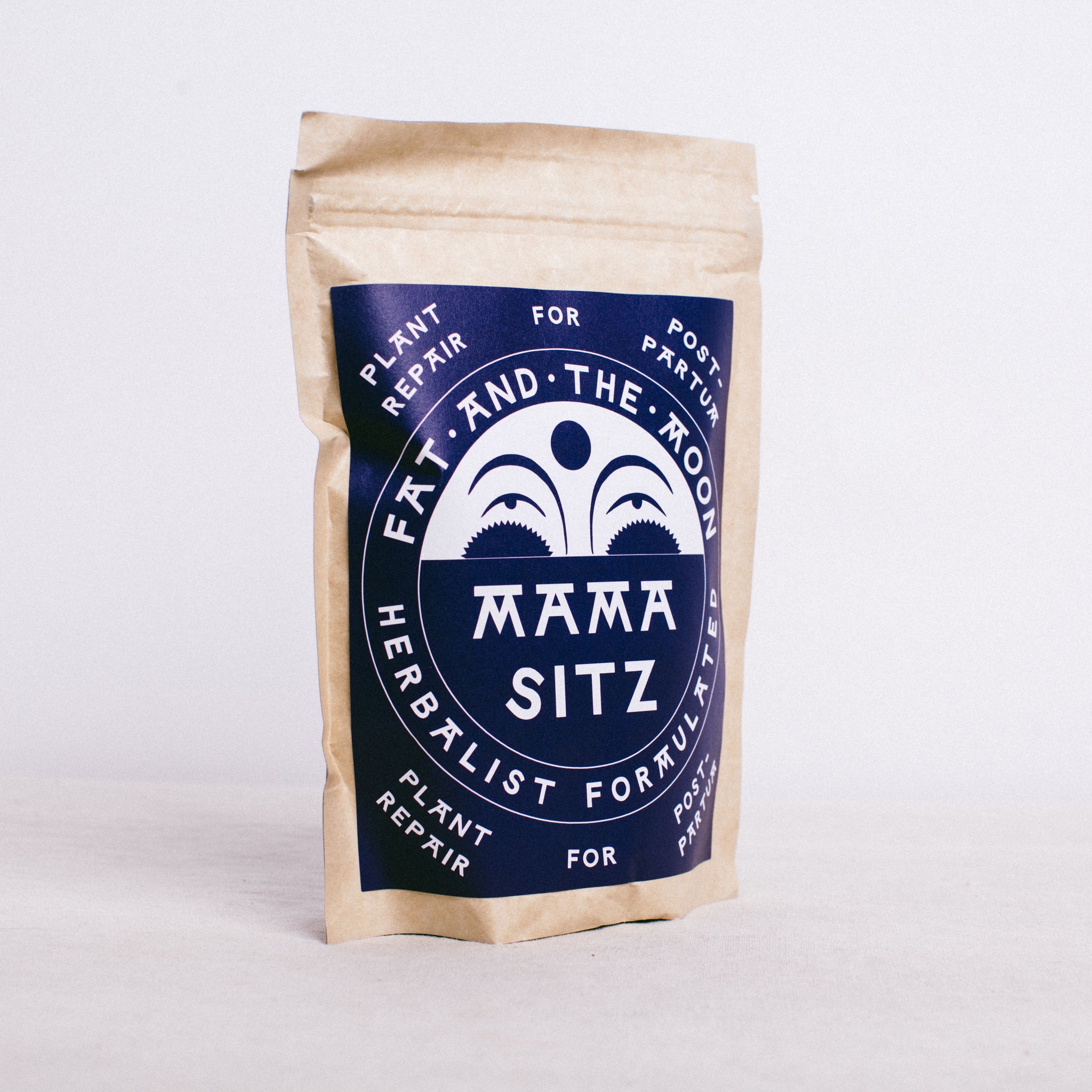 MAMA SITZ || FAT AND THE MOON
The Sitz Bath is an herbal practice of our foremothers who knew the benefits of a cup-a-tea for their most precious parts. The concept is simple, dunk your yoni into a botanical bath - proceed to chill, repeat daily until what ails your cooch clears.


Sitz bath directions: Take 3 tablespoons of the mama sitz herbs and add to a quart mason jar. Fill the jar with boiling water and let the herbs steep for a minimum of a half hour. Steeping overnight is ideal. You can gently rewarm the tea before use. Add the strong tea to a warm shallow bath (just enough water to submerge your yoni). Add a ¼ cup of sea salt to the bath for good measure. Sitz for 20 minutes +. Sitz bath once a day for a month.

Yone on ice directions: Using the same tea, saturate a clean cloth folded into a shape that will fit into a menstrual pad. Freeze the tea saturated cloth, then place on top of a clean pad to wear. Like a popsicle outta the ice cream truck on a hot summer day...for your yoni.

Other uses: Add tea to a peri-bottle and use as you would with water. Continue to use after postpartum repair for discomfort from microbial invasions.


Ingredients: Jojoba Oil (Simmondsia chinensis)* Chamomile (Matricaria recutita)* Infused Apricot Kernel Oil (Prunus Armeniaca)* *organic

16 oz tin


Please use within 6 months of purchase. Store in a cool and dry place. Our products are organic and freshly made to order skin food. We do not use toxins that make things last forever.

For educational purposes only This information has not been evaluated by the Food and Drug Administration. This information is not intended to diagnose, treat, cure, or prevent any disease.



ABOUT FAT & THE MOON


Continuing a family legacy of herbalists and natural healers, Fat and the Moon founder
Rachel Budde
has built her company around providing handcrafted, herbal body care products to those seeking a natural alternative to chemical-filled products.
Like a witch over a cauldron, Budde experiments with age-old ingredients and recipes passed down from various healing traditions to craft innovative and simple products that are good for the body and the earth. Fat and the Moon started as an alternative to the toxic, mass production body care industry aiming to provide nourishing ingredients and nourishing messages of self love, and self care. 
And if you were wondering why 'Fat and the Moon'....
Fat as the first word in the name of my business has gotten me in some interesting discussions. People ask me about the name all the time because they can hardly believe I would use a word that has such negative connotations,­ especially when it is used within 'beauty care'.


In part, I use the word 'fat' to be provocative; I don't believe fat is a dirty word. But most of the fat in Fat and the Moon comes from my love of the material- oil is the medium of external herbal medicine. Fat in the form of oil, is the gift of the seed. Fat, both in plants and animals, is where energy is stored. The richness we taste in food, and the suppleness we feel on our skin after a good slather of bath oil, is our bodies recognition of and pleasure in that vital energy. Oil from plants, in and of itself, is medicinal. I feel honored as a medicine maker to indulge in the play of fat and herbs, especially under the influence of the moon.