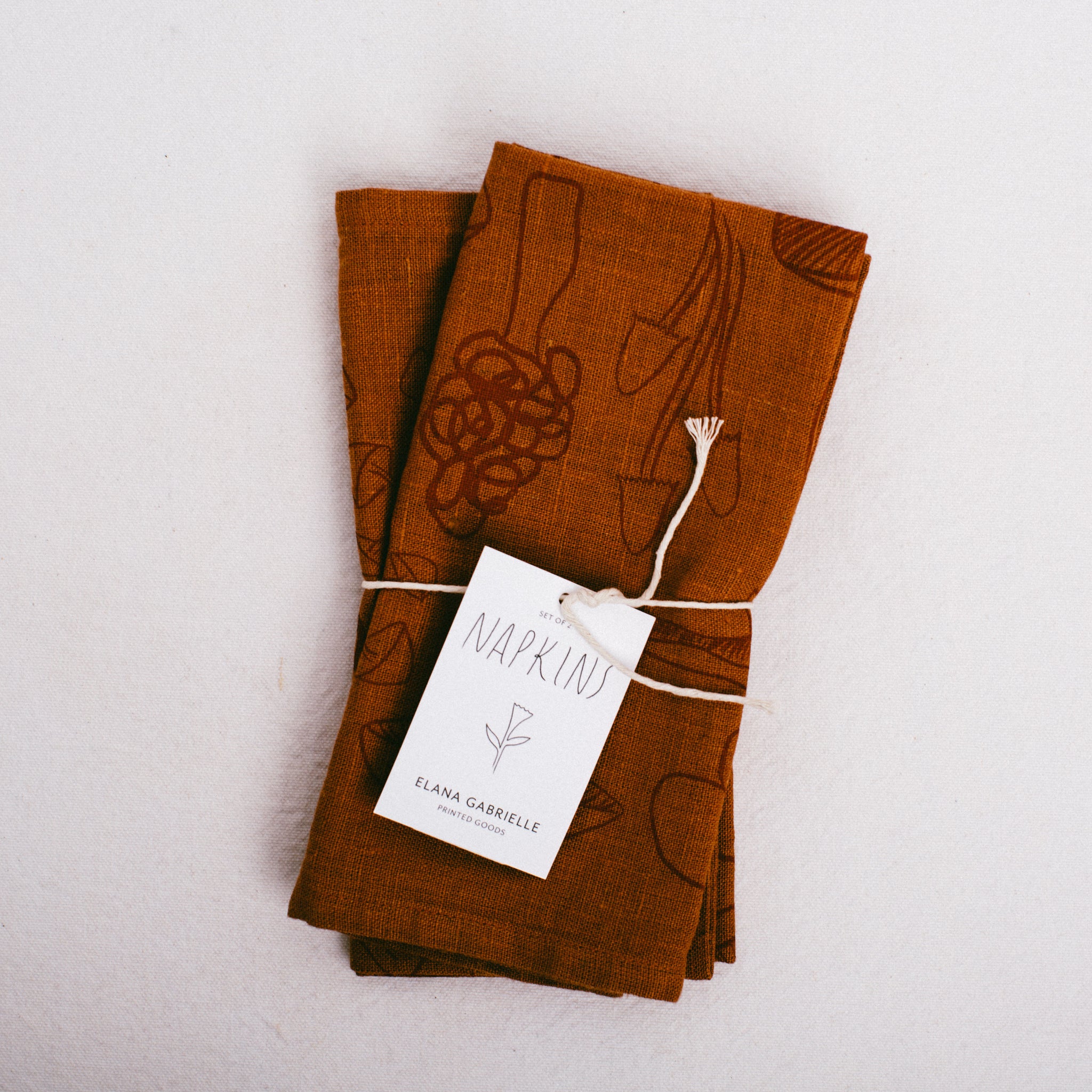 MUSHROOMS LINEN NAPKIN SET || ELANA GABRIELLE
The Mushrooms Linen Napkins are inspired by mossy forest walks, loamy soil, and mushroom season meals.
This set of two flax linen napkins is dyed with earth-friendly pigment and screen printed with water-based inks on heirloom-quality flax linen fabric. I love this linen for its lovely tactile feel, soft supple texture, and high absorbency. It has many uses around the home and adds a little something extra to mealtimes. Perfect for garden parties, picnics, under serving dishes, and so much more.
I source this fabric from a small family-owned business in Lithuania, chosen specifically for their traditional and ethically produced flax. This soft and sturdy linen inhibits the growth of bacteria and microflora and is a wonderful, sustainable home textile.
SIZE | 16" x 16"
MATERIALS | Linen, water-based ink, earth-friendly dye
USE | Multifunctional napkin for everyday use
CARE | Wash cool or warm with like colors, mild detergent. Iron while damp, do not over dry.

|| ABOUT ELANA GABRIELLE ||

Elana Gabrielle is a multidisciplinary illustrator, maker, and designer of printed textile and paper goods. Her work is influenced by the wild and varied landscapes of the West Coast where she grew up, from misty mountains and foggy beaches to dusty desert valleys. Using cut paper collage, painting, screen printing, and textile design, she weaves the natural world into her creations.


Her handmade goods embody the natural world in both form and function, using sustainable practices and natural fibers, dyes, and inks and a focus on simplicity and attention to detail. Elana's goods invite mindful interaction with nature both in the home and in the wild, and encourage care for the world around you.