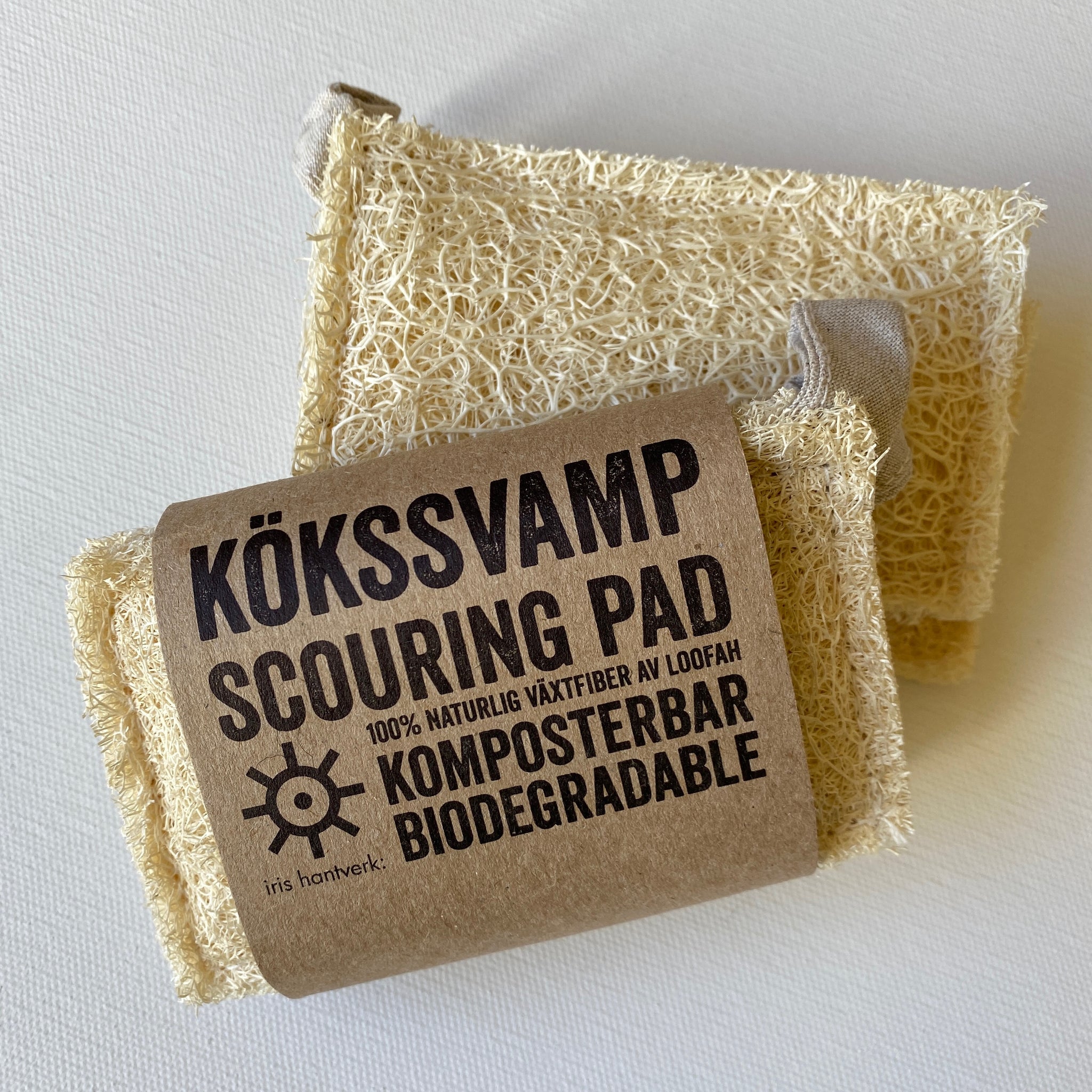 SCOURING PAD SPONGE || IRIS HANTVERK
Scouring pad made of 100% loofah. This plant is related to cucumber and zucchini. The Loofah is organically and sustainably cultivated in Spain. No spraying is used and irrigation is done using natural rain and recycled thermal water. During manufacture, no chemicals are used, but only 43-degree thermal water softens the fibre.
When the scouring pad is soaked, it becomes softer and larger. It works on all surfaces and it does not scratch or destroy any material. It is ideal for use as a kitchen scouring pad or general scouring pad. The scoring pad lasts about 4-6 months depending on the use.
Clean the scouring pad by placing it in boiling water with mild washing-up liquid. Rinse it and let it air dry, use the handle. If it changes colour or becomes too soft, it is time to put it on the compost.

2 scouring pads included

Length: 5"
Width: 3.25" 

|| ABOUT IRIS HANTVERK ||
Today we are 17 employees at Iris Hantverk. The core of the business is the brush binding manufacturing at Sandsborgsvägen, Enskede – here 6 visually impaired craftspeople make brushes according to an old Swedish tradition. We also work with visually impaired craftsmen in Estonia. Like us, they too have a history strongly connected to the visual impairments movement. We care much for the craftsmen and the survival of the brush binding manufactory. We believe that many like us appreciate the feeling and quality of a hand drawn brush made of natural materials.


Our vision is to revive the traditional brush binding profession. By making functional products with good design combined with the quality of natural materials and the solid technique of a craftsperson.