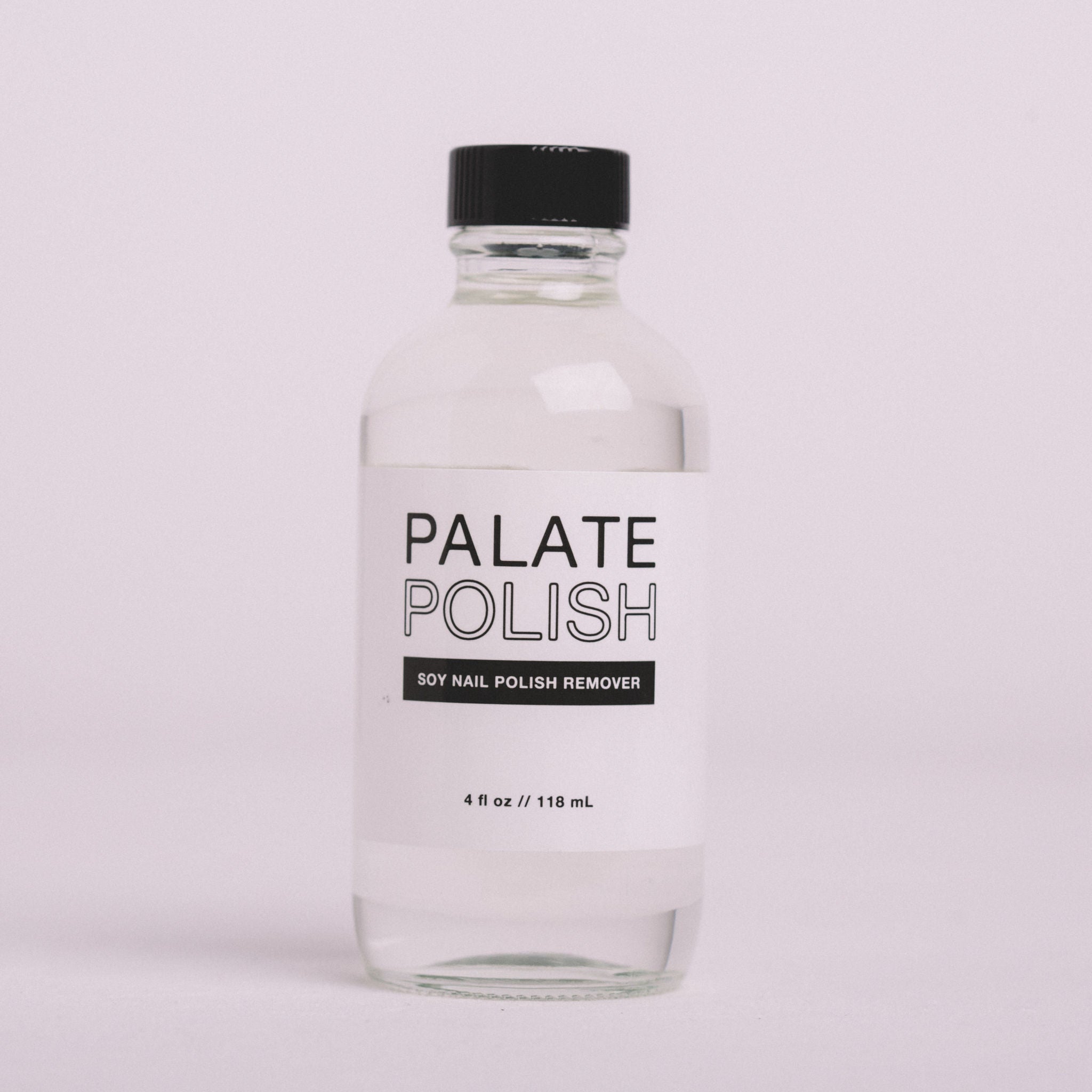 SOY POLISH REMOVER || PALATE
Our unscented soy based nail polish remover promotes healthy, moisturized nails and does not contain smelly acetone or harsh acetates that can damage the nails, cuticles and dry out your skin. 

Directions: Saturate cotton ball and allow remover to soak on the nail for 10-20 seconds before wiping. Gently rub until polish has been completely removed. Wash and dry hands after using remover to ensure nail bed is clean and dry before applying nail polish. 
Environmentally friendly glass bottle and contains only 3 ingredients + essential vitamins: Soy Methyl Ester, Dimethyl Glutarate, Dimethyl Adipate, Vitamins A, C, & E.
4 oz/118ml
Product is non-toxic, vegan and cruelty-free.
Made in Portland, OR


|| ABOUT PALATE POLISH ||
Palate Polish is small batch and 10-free, excluding many typical toxic ingredients found in nail polish.


What does 10-free mean?
10-free polish excludes the toxic chemicals: Toluene, Formaldehyde, Dibutyl Phthalate (DBP), Formaldehyde Resin, Camphor, Triphenyl Phosphate (TPHP), Xylene, Ethyl Tosylamide, Methylisothiazolinone (MIT) and Parabens.
...and what do those ingredients do?
Toluene affects the central nervous system and can cause headaches, nausea, dizziness and fatigue. Chronic exposure is linked to anemia, lowered blood cell count, liver or kidney damage. This is the solvent in nail polish that smell like paint thinner. 
Formaldehyde is a known human carcinogen that has been associated with leukemia and asthma. It can also irritate the eyes, nose and throat and leads to skin irritation or cause an allergic rash called dermatitis. It is routinely used to embalm and preserve dead animals and humans. 
Dibutyl Phthalate (DBP) is a developmental and reproductive toxin. Our product omits all Phthalates, a group of chemicals that have been linked to obesity, allergy and asthma symptoms, reduced fertility, preterm birth and low birthweight. Exposure can affect thyroid function and may cause malformations of an embryo. They are used as a plasticizer. 
Formaldehyde Resin is a derivative of Formaldehyde, it is not as toxic as Formaldehyde but can be an allergen. This ingredient is used in the manufacturing of adhesives.  
Camphor is a poison that can cause seizures and disorientation. This chemical acts as a cover on your nails, depriving them of nutrients and causing the yellow staining on your nails.
Triphenyl Phosphate (TPHP) disrupts hormone regulation, metabolism, and reproductive systems. It is chemical compound used as a fire retardant in furniture and hardener in plastics. 
Xylene irritates the skin, eyes and respiratory tract. It most commonly enters your body through the inhalation of vapors and is rapidly absorbed by your lungs. Symptoms include: headaches, dizziness, ataxia, drowsiness, tremors, ventricular arrythmias, acute pulmonary edema, respiratory depression, nausea and vomiting. This solvent is used in synthetic enamels, paints, lacquers and varnishes. 
Ethyl Tosylamide is an antibiotic resistance. It is used in low concentrations, but is a highly viscous liquid used primarily as a drippy-to-dry film former.
Methylisothiazolinone (MIT) is associated with allergic reactions and irritation to the eyes, skin, and lungs. It is preservative added to cosmetics in order to extend their shelf life and not cause bacteria to form. 
Parabens are preservatives that have gotten a bad rep for their estrogen-mimicking effects, which may trigger major health concerns like hormonal problems.