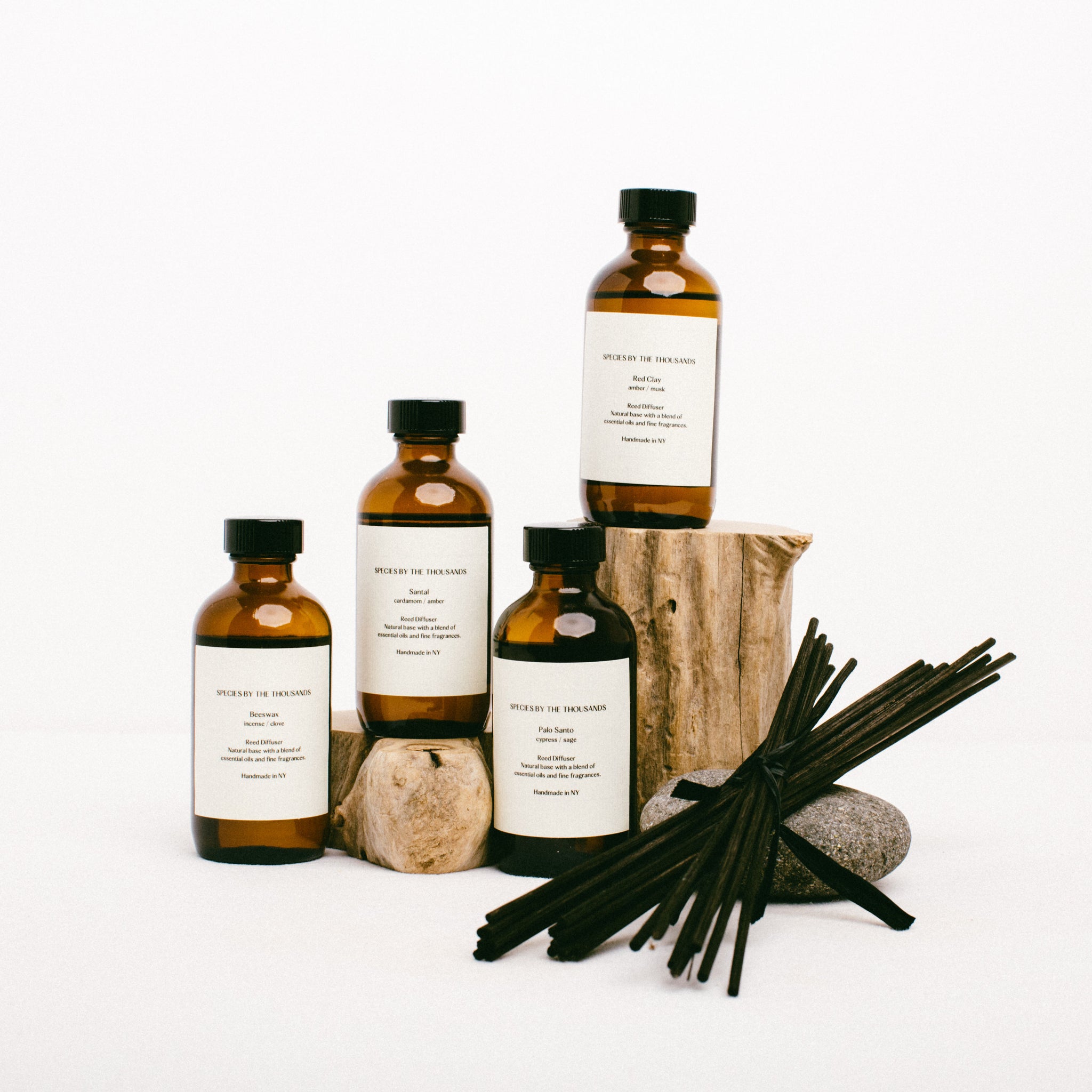 SPECIES BY THE THOUSANDS DIFFUSER
BEESWAX + INCENSE + CLOVE
A buzz in the air.

Beeswax, Incense + Clove reed diffuser clears up and warms up any room or space. 
PALO SANTO + CYPRESS + SAGE
Clean and crisp. 
Palo Santo, Cypress + Sage reed diffuser is a green, woody scent with notes of cedar and citrus.
RED CLAY + AMBER + MUSK
Breath deep.
Red Clay, Amber + Musk reed diffuser is a warm and woody blend with notes of palo santo and ginger. 

SANTAL + CARDAMOM + AMBER
Freshen up.
Our Santal, Cardamom + Amber reed diffuser is a creamy, sweet, and woody blend. 
• Natural base
• A blend of high-quality fragrances and essential oils that are paraben-free, sulfate-free, and petroleum-free
• 4 oz amber bottle, 7 reeds
• Instruction label on the back of the bottle
• Lasts for Approximately 3-4 months


||
ABOUT SPECIES BY THE THOUSANDS
|| 
Species by the Thousands is a craft studio originally founded by artist Erica Bradbury in 2006 in Brooklyn, NY.  Today, we are focused on creating handcrafted aromatherapy mists, candles and jewelry inspired by natural, spiritual and outsider worlds.  All of our work begins from the idea that nature is a powerful source for our well being, and the products from the line are all handmade in New York at our workshop tucked within the northwest Catskill Mountains.