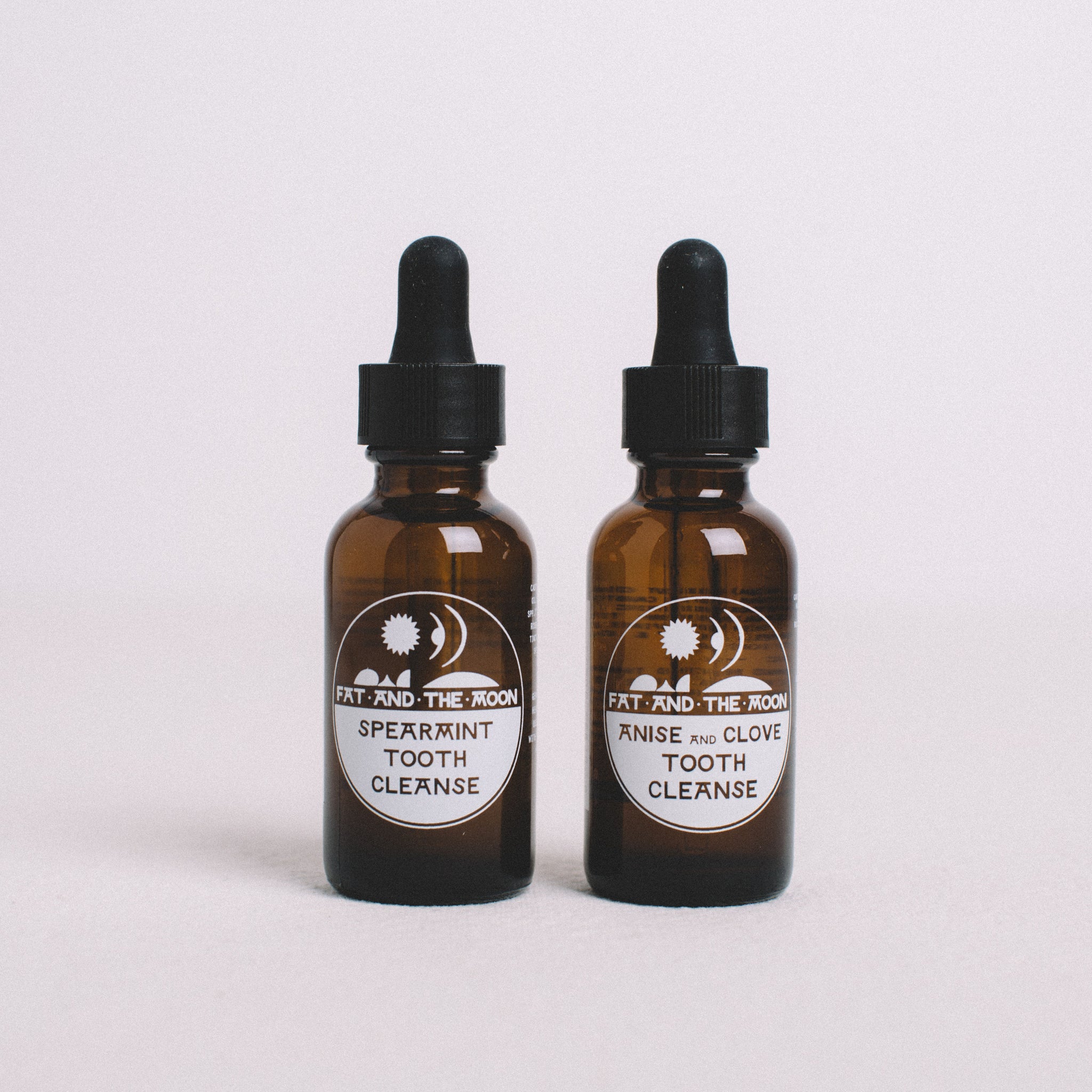 TOOTH CLEANSE || FAT AND THE MOON
The best part about brushing your teeth with Anise & Clove Tooth Cleanse is you can say the nastiest, most shocking and appalling things all day long with zero guilt.

There are other great things about it too, like the fact you'll be healing your receding gums which come from brushing with far too abrasive pastes. Receding gums aren't just uncomfortable, they also lead to more cavities as they expose the much softer dentin layer of the tooth which is usually covered by gums or the much harder enamel. Also, because it doesn't contain any glycerin, it won't block your teeth from remineralizing. What is remineralizing you say? Well in short, when have something flavorful in our mouths- food, drink or toothpaste, acids are released in our mouths to begin the process of breaking down our food for digestion. The acids in our mouths actually make our teeth slightly more soft and porous. After you've finished eating or drinking, our saliva changes from acidic back to alkaline and if everything is workin well, your teeth should go back to their harder and stronger state. If you brush with sticky things like glycerin, they adhere to the tooth and block the minerals in your saliva from penetrating the tooth. So imagine the state of your poor teeth when your toothbrush enters your mouth with minty explosion flavored toothpaste, digestive acids get released and they get all soft and open then you start vigorously brushing them with intense abrasives. Like using sandpaper in the shower instead of a loofah. No wonder your gums are running from you!

Anise & Clove | Tooth Cleanse provides an alternative that gently cleanses the teeth with mild soaps and checks over zealous bacteria with Fat and the Moon made myrrh tincture. Essential oil of clove supports gum health, and anise essential oil sweetens the flavor and promotes good digestion.
Ingredients: castille soap* (water, saponified coconut*, sunflower* and castor oils*, citric acid, and rosemary extract*), distilled water, myrrh tincture* (myrrh* and biodynamic grape spirits*) essential oils of anise* and clove* *organic
Spearmint | We are super stoked to offer our very likable Tooth Cleanse in an even more likable flavor, Spearmint! All the same gum honoring properties as our Anise & Clove version, but with a refreshing boost that reminds us of crushing fresh mint leaves between our teeth.
Ingredients: Castile Soap (Castile Soap (Water (Aqua), Coconut Oil (Cocos nucifera)*, Sunflower Oil (Helianthus spp.)*, Castor Oil (Ricinus communis)*, Citric Acid, Rosemary Extract (Rosmarinus officinalis)), Myrrh Tincture* (Myrrh (Commiphora myrrha)* and Biodynamic High Proof Spirits*), Essential Oil of spearmint (Mentha spicata)* *organic

And the economy folks! Only three little drops per brush!

Pair with Fat and the Moon's Tooth Polish which should be used once every couple weeks to help keep teeth free of stains from coffee of tea.

1 fl oz

For educational purposes only This information has not been evaluated by the Food and Drug Administration. This information is not intended to diagnose, treat, cure, or prevent any disease.


ABOUT FAT & THE MOON
Continuing a family legacy of herbalists and natural healers, Fat and the Moon founder Rachel Budde has built her company around providing handcrafted, herbal body care products to those seeking a natural alternative to chemical-filled products. Like a witch over a cauldron, Budde experiments with age-old ingredients and recipes passed down from various healing traditions to craft innovative and simple products that are good for the body and the earth. Fat and the Moon started as an alternative to the toxic, mass production body care industry aiming to provide nourishing ingredients and nourishing messages of self love, and self care. 
And if you were wondering why 'Fat and the Moon'....
Fat as the first word in the name of my business has gotten me in some interesting discussions. People ask me about the name all the time because they can hardly believe I would use a word that has such negative connotations,­ especially when it is used within 'beauty care'.
In part, I use the word 'fat' to be provocative; I don't believe fat is a dirty word. But most of the fat in Fat and the Moon comes from my love of the material- oil is the medium of external herbal medicine. Fat in the form of oil, is the gift of the seed. Fat, both in plants and animals, is where energy is stored. The richness we taste in food, and the suppleness we feel on our skin after a good slather of bath oil, is our bodies recognition of and pleasure in that vital energy. Oil from plants, in and of itself, is medicinal. I feel honored as a medicine maker to indulge in the play of fat and herbs, especially under the influence of the moon.